I've been working on this one for a while. It's a full fledged reoorganization of Division One football as we know it. It's based heavily on FiniteMan's idea of restructuring the divisions based on attendance, but I've added in some other factors, including football spending and scholarship requirements and etc. etc.
This is the first part of four, however, those four parts will each be relativley shorter than this first one. The NCAA will be divided into four seperate divisions:
Division FBS (91 Members):
-85 scholarships
-25,000+ attendance and/OR 8Million plus football spending (2 years out of a three year period).
-11-team NFL style Playoff
Division FCS (105 Members):
-50 to 85 scholarships
-7,000+ attendance (2 out of 3 year period)
-20 team playoff
-Undefeated teams qualify for FBS Playoff
Division 1-AA (54 members)
-40 to 65 scholarships
-3,000+ attendance (2 out of 3 year period)
-24 team playoff
Division 1AAA (48 members)
-non-scholarship
-12 team playoff
-1-AA playoff by invitation only
-16 team playoff
The website where I got the budget information is here:
http://ope.ed.gov/athletics/Index.aspx
Hope you enjoy
!
A proposal for setting up a college football playoff
Another year of bowls, another year of disappointment for college football fans. Another team with a perfect record ends up on the outside looking in. This year's victim has one of the best rap sheets in college football: An undefeated season, 3 victories over top 25 competition, and a powerhouse win over what was the best team in the nation a mere week before. So how can we remedy our college football woes? Well, the obvious answer is a playoff. Just about every collegiate sport has a playoff of some sort, some inclusive and some not so inclusive. The question then lies, what kind of playoff is best bred for college football?
I would answer that question by saying that what college football needs is a complete, head-to-toe, makeover. A complete restructuring so that both the Haves and Have Not's so that both sides can field playoff-level teams. Therefore, what we need is not just your average playoff system. We need a playoff system specially built for the gargantuan beast that is modern college football. I propose two new amendments that will define this restructuring. First, all teams with less than 25,000 attendances for two years out of a three year period should be demoted. Second, Teams that spend 8.0 Million plus on football over the same period shall be exempt from exclusion. Requiring they continue pumping money into their college sports program, the schools will be allowed to continue fielding FBS teams. This allows some of the smaller private schools to keep a FCS football program. You'll notice that these schools are either up-and coming or small privates. Three Schools can dodge the attendance cut: Duke, Temple and Southern Methodist.
Exclusion by the 8million principle:
Southern Methodist
Duke
Temple
Teams in the red:
Tulsa*
Tulane*
Central Michigan*
Houston*
La-Lafayette*
Arkansas State*
Colorado State*
San Jose State*
UNLV$
MTSU*
Louisiana-Monroe*
Troy*
Ball State*
UAB*
Nevada*
Eastern Mich*
Western Mich*
Wyoming*
Northern Illinois$
Louisiana Tech*
New Mexico State*
North Texas*
Buffalo*
Florida Atlantic*
Bowling Green*
Miami (Ohio)*
Idaho*
Ohio*
Utah State*
Akron*
Florida International*
Kent State*
Toledo*
Glossary:
A) The Big East
B) The Big Ten
C) The PAC Ten
D) The Big Twelve
E) Independents
F) The SEC
G) The ACC
H) The MWC
I) The Atlantic Nine
J) The Playoff System
Football Bowl Subdivision:
The Big East Public Division:
Louisville
Cincinnati
South Florida
Memphis
Temple
Connecticut
Pittsburgh
West Virginia
First, I'm making a couple of changes to the Big East. We'll start off with the league losing Rutgers to the Big Ten, a situation I discussed more in-depth on the NCAAbbs. While I prefer Delaware to Temple (who barely squeaked into FCS due to the 8M dollar principle) in the short term, I'll admit Temple, which already has a 50k+ stadium and is much closer to 1-A than Delaware, is a better addition. Plus, playing in a northern, BCS league instead of the Midwestern MAC, should bump Temple up to around the 25,000 attendance mark. Stability in the now, with a eight-game conference schedule, is much preferred than trying to make a go of it with 8 teams and no presence in the major northeastern markets. Personally, I still think Delaware will be a stronger program in five or ten years.
For those not in the know, what you see here is a gavitt-style league. It's a league with two 9-team divisions, where each division represents a sort-of mini conference. The TV deal would be split right down the middle; when it comes time to redistribute NCAA tournament money would be given to the appropriate division. As in, the 'one' conference would count as two for NCAA redistribution purposes.
The Big East Private Division:
Marquette
DePaul
Notre Dame
Providence
Villanova
Seton Hall
Saint John's
Georgetown
Saint Louis
The Big Ten East
Ohio State
Indiana
Purdue
Illinois
Penn State
Rutgers
The Big Ten West
Michigan
Michigan State
Northwestern
Wisconsin
Minnesota
Iowa
The Big Ten adds Rutgers. Rutgers is the home team in one of the largest markets – albeit one which it doesn't control. The school is the state flagship of New Jersey, and contains the right profile for a Big Ten School; large market with little Big Ten influence, 1st Tier USN&W report, 40k + Student body. This makes the Big Ten the number one conference in the Northeast.
Notice I didn't choose Notre Dame here. For the sake of this college football playoff, I decide that it's just as well if the Irish maintain both independence and their massively ridiculous TV contract if they so desire. With the freedom of Independence and an automatic berth every time they get ten wins, Notre Dame really doesn't need a football conference, even one as prestigious as the Big Ten. Notre Dame is another case of fan base and location overcoming actual team quality. But you can't hate on a school for being successful, right?
The Big Ten's eleven member structure is a kink in the system. It allows the conference an often unwarranted second chance at a now extinct BCS Bowl Berth, lead to several years with dual conference champions, and also allowed top Big Ten teams to avoid playing other top Big Ten teams, thus leading the Big Ten to be vastly overrated (I'm looking at you, Ohio State). At the very least, with 12 teams, we'll know who won the Big Ten last year. It simply MUST be fixed.
Permanent crossover games: Michigan Ohio State
Northwestern Illinois
PAC Ten:
Arizona
Arizona State
California
Stanford
UCLA
Southern Cal
Washington
Washington State
Oregon
Oregon State
The Big Twelve:
Texas
Texas A&M
Texas Tech
Baylor
Oklahoma
Oklahoma State
Nebraska
Kansas
Kansas State
Missouri
Iowa State
Colorado
Independents:
Hawaii
Army
Navy
Notre Dame
Southern Miss
Hawaii will make a great long term addition to the independent. A state flagship with 40k+ attendance playing independent football? That's unheard of. Sky High travel costs make this a likely eventual reality for the Warriors anyway. As for reasons stated above, Notre Dame remains an Independent. I'm not sure how long USM can remain at Division FBS, though.
The SEC:
Vanderbilt
Tennessee
Kentucky
South Carolina
Florida
Georgia
Louisiana State
Arkansas
Alabama
Auburn
Mississippi
Mississippi State
ACC:
Florida State
Clemson
Wake Forest
North Carolina State
Maryland
Boston College
Virginia Tech
Virginia
Duke
North Carolina
Georgia Tech
Miami (Florida)
The Mountain West conference:
Utah
Brigham Young
Boise State
Air Force
New Mexico
Texas at El Paso
Texas Christian
Southern Methodist
San Diego State
Fresno State
Non-football:
University of Nevada-Los Vegas*
Colorado State*
Perhaps no conferences undergo as dramatic changes as the MWC does. We'll start with the basics. First, Boise State and Fresno State are obvious choices from the now extinct WAC. Texas at El Paso is here because it's one of the few teams left that is certain to meet attendance requirements over the next five years. On behalf of conference politics, Southern Methodist (despite sub 20k attendance) is given a conference home. Texas at El Paso and Texas Christian would feel appreciative if another school from Texas was added. I'm sure TCU would lobby pretty hard for their Christian Brothers to maintain FBS status. Of course, none of this will matter if SMU doesn't start playing better football under June Jones. 1-11? You got to be kidding me.
I'm going to wait a few years before I pass judgment on Jones, though. Given time, the school's allotment of resources and the school's willingness to make the occasional academic concession [this is one of the things that allowed Jones to shine in Hawaii], I think SMU will eventually become one of C-USA's better teams. At which time, they will start filling the stands up a little more.
Montana was considered heavily here [and they probably would out-draw SMU], however, SMU stands apart in five separate factors. 1) SMU already plays in a 30+k stadium, 2) SMU has a huge endowment and a gratuitous booster club [over 11M dollar football spending in 05-06], 3) Texas at El Paso and Texas Christian will feel a lot more comfortable with another Texas team 4) SMU has markedly better academics and 5) SMU allows for geographically even travel partners.
Notice, unlike Lash, I decided that the MWC would be better off in 10/12 format. Why 10/12? Its travel efficient and that after all is a reason we have a MWC in the first place. For Football, ten members gives us the following travel partners:
Fresno State-San Diego State
TCU-Southern Methodist
Utah-Brigham Young
Boise State-Air Force
New Mexico-Texas at El Paso
As a general rule, basketball conferences should be larger than football conferences [like my Gavitt Plan conferences] and twelve will allow us to split the basketball teams into two divisions, condensing the strained distances into more manageable forms. The two non-football teams [who would likely prefer to stay due to the extra coverage received by parking your sports in a FCS conference] allow the MWC to keep its two major markets somewhat intact: UNLV in Las Vegas and Colorado State in Denver/Colorado Springs.
MWC North:
Utah
Brigham Young
Boise State
Air Force
Colorado State
Fresno State
MWC South:
Texas Christian
Southern Methodist
Texas at El Paso
New Mexico
San Diego State
University Nevada-Los Vegas
Permanent Crossover Home-and-Home Games: San Diego State-Fresno State
The Atlantic Nine Football League:
Central Florida
Eastern Carolina
Massachusetts
Delaware
Appalachian State
Marshall
UNC-Charlotte*
Old Dominion*
Georgia State*
The Atlantic Ten South:
Central Florida
Eastern Carolina
UNC-Charlotte
Old Dominion
Georgia State
Appalachian State
Richmond
George Washington
Marshall
The Atlantic Ten North:
Delaware
Xavier
Dayton
Fordham
Rhode Island
La Salle
Saint Joseph's
Massachusetts
Duquesne
This conference is similar to one ripped out of the article I wrote for bleacher report, however, it is different in one distinct way: It remains a Gavitt-Style league; Two independent divisions of eight or nine teams each. We start in a post-apocalyptical Atlantic Ten. The downtrodden conference has lost its perhaps two most promising programs: Temple and Saint Louis. Plus, UNC-Charlotte and Massachusetts continue to dream of FBS, waiting for the right opportunity to leave for a newly founded FBS CAA or [gulp] maybe even the Big East. However, it is now also a time of newfound opportunity. First, several former C-USA schools still have legit FBS aspirations. All Eastern Carolina, Central Florida, and Marshall Need is a conference home for their FBS football programs and they could fulfill their FBS aspirations.
Well, it may take a few years and some planning, but it looks like we can accomplish that goal. However, until our 'league on paper' can become a reality, UCF, ECU and Marshall will have to park their football school in the independent section.
Outside of the former C-USA schools, Appalachian State is probably the closest thing our group has to a 'sure bet'. Located in the mountains of western NC, the school has capitalized on recent publicity boosts and averaged 26,000 attendances per game in the 2008-09 seasons. The school has consistently been at the top of the attendance charts. However, the school's raw numbers, the endowment, the stadium size (only 20k!), the student population and academic stature all fall below current 1-A standards. In an environment similar to modern Conference USA, and with a stadium expansion, the school should clear 30k easy.
Delaware is also fairly well off. The fighting Hens already average close to 20,000 per year, even facing inferior competition in Division 1-AA . Not only is Delaware a flagship university, it's also rated in the top tier in USN&W report and is rated as a 'very high research university' by the Carnegie Classifications. The Hens are a university that bares a similar resume to University of Virginia or University of North Carolina; state flagship, large endowment, middling enrollment, except minus the sports program. The money, in the form of a one billion endowment, is there for Delaware. But will the fan base be willing to make sacrifices so the Fighting Hens can either A) build an entirely new stadium or B) expand their stadium by around 5-10k for football? As of right now, the Hens seem to be about 5 years away from minimum FBS requirements. Fortunately, the rest of the conference is at least 5 years out too.
Of the remaining schools, Georgia State has the best chance of making
1-A attendance standards. They have hired a high profile coach in Bill Curry, play their football in the Georgia Dome, and [for better and for worse] play their football in the bustling metropolis that is Atlanta. While the endowment doesn't exactly scream FBS, Georgia State more than makes up for it with its size. The school has almost a Directional Florida feel to it: Large market where they are 3rd team on the food chain, large student body, and small endowment.
UMASS will most likely not have the money to upgrade their stadium. However, renting a stadium (Gillette Stadium?) costs significantly less, and works well for several current BCS members (notably Pittsburgh and South Florida). UMASS's credentials as a Division FBS school may at first seem underwhelming, however, the endowment is larger than that of Temple, who spends 1Million yearly to rent Lincoln Financial Field from the Philadelphia Eagles.
My plan is as follows: Do what Temple did occasionally during the 1970's and strike a deal with an Ivy League school (possibly with some state pressure), in this case Harvard, and play the home games in Boston; thus drawing attention inside the state's main population base. Harvard's stadium holds 30k (Max 57k) [more than enough for FBS]. UMASS would directly appeal to the Boston area and save a wad of cash on stadium upgrades.
Harvard will receive 15% of the profits (and since this is a BCS-level league after all) so Harvard should pocket upwards of 1 million (which even for Harvard is a fair amount of money). As a bonus, Harvard will receive 1/3 of the money UMASS receives from NCAA tournament.
I imagine scheduling differences will surface, but can be worked around. Harvard has let pro teams rent out the stadium before, including the New England Patriots. Both the Boston Cannons of Major League Lacrosse and the Boston Breakers of Women's Professional Soccer rent out the stadium currently. And I really doubt the Breakers and Cannons COMBINED are paying a million dollars for their stadium renting rights. Imagine this though: If UMASS becomes an A9 powerhouse and starts earning, say 16M instead of 8, then Harvard's share becomes 2Million, or twice what Temple pays the Philadelphia Eagles to play in their state-of-the-art stadium. If Harvard declines, I would try a similar strategy with other Ivy league schools, such as Yale.
UNC-Charlotte is the wild card of the bunch. UNC-Charlotte is at least ten, if not more, years away from entering FBS play. UNC-Charlotte has a middling enrollment and endowment, but is a young and fast growing school with a very active alumni base. The football program seems to have developed a groundswell of support; UNC-Charlotte sold 5,000 PSLs in less than two months. UNC-Charlotte is the only school with legit FBS aspirations within the Charlotte (1.8 Million) metro area, but will face serious competition from several nearby schools, including ECU, Duke, Wake Forest, North Carolina, and NC State, not to mention the Carolina Panthers. Plus, the school will probably need to find a way to expand the stadium at the very least by 5,000 if they want to compete in FBS.
This leaves me at eight. I need about one more school to bring the conference up to nine, which will be enough for a stable football league. There are two schools left in the mid-Atlantic area that can legitimately think about FBS football: James Madison and Old Dominion. Old Dominion is bigger, in a larger market (Virginia Beach-Newport News), and has the larger endowment, while James Madison has a more established football tradition, in stark contrast to Old Dominion, and is expanding their stadium to 25k. JMU has experienced serious difficulties finding money for expansion. While ODU has literally no football track record, the raw materials are there for a FBS football. However, the stadium needs expansion from 20k to around 30k.
The 'core' of the Atlantic Nine (Central Fla, ECU, Marshall, Delaware, UMASS, Appalachian State) should be able to reach FBS standards within about five years. The other three teams (ODU, Georgia St, and UNC-Charlotte) will take several more years to their football teams up to FBS standards; One or two of the schools may also fall short along the way. This could very well remain a six-team league for a decade after reorganization.
The Playoffs
First, I have decided on a unique playoff system. The playoffs would be NFL-style, however with 11 teams instead of 12. Why 11? Because the bottom half of the bracket will be the rose bowl. Secondly, every FBS conference champion will receive an automatic berth to the playoffs. Wild-card matches will be played at the bowl site a week before the bowl. This way, the bowls can choose to give automatic berths to a certain conference. The Orange bowl would likely give berths to the Big East and ACC, the Sugar to the SEC and the Fiesta to the Big Twelve. The rose bowl will remain in Big Ten-Pac Ten format. The top three spots will all go to the top three conference champions; with undefeated teams receiving priority. Any Independent team going undefeated will also receive an automatic berth. Two teams that played each other during the regular season cannot be grouped in the same bowl.
The bowls will also be allowed to hand-pick the wild at large berths – there will be three -- required that they have at least ten wins and an avg. ESPN/Harris poll ranking of above fifteen. However, one of these at-large bids likely will be given to an Undefeated FCS team. Any FCS team that goes undefeated and untied will receive an automatic bid to the tournament. If two such FCS teams accomplish this feat, they will play each other for the right to participate. These FCS teams will not participate in the FCS playoffs. On the rare occasion that three FCS teams qualify, the highest ranked school will receive a first-round bye. To Qualify, the school must play at least ten FCS or FBS teams.
(A note here: FCS will be reduced to about 80 teams; so there won't be any non-scholarship or partial-scholarship schools floating around. About half of FCS will be former FBS teams. Also, to compete at FCS, all teams
need to have a minimum of 50 scholarships and 7,000 average attendance)
Division of Payouts will be as follows: For the Bowl Games, the payouts will be according to the Bowl's wishes, as long as both participating teams retain an equal share and the payouts at least equal those given during pre-reorganization. For the wildcard games, 25% of the profits is redistributed, the remaining money is divided as the bowl committees see fit, required that A) each school receives an equal share and B) that share is no less than 3 million.
These Playoffs will not be an NCAA entitiy. More or Less, they will be run by the schools and the bowl commitees. They will be nun like a non-sanctioned NCAA basketball tournament, like the Maui Invitational, but the money will be redistributed like an NCAA tournament, so all schools get a peice of the pie.
The money received by each school from bowl payouts would be divided as followed: 50% to the participating school, 30% divided among the participating conference in whatever way conference officials see fit, 20% divided equally among all FCS schools. The TV deal would be divided as follows: 25% would be redistributed among the host sites in a manner they see fit, and the other ¾ would be redistributed.
The playoffs would look a bit like this:
Nevermind, screw this. I'm
showing
you what the playoffs would look like: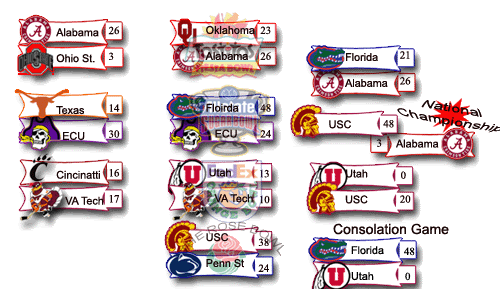 simulations done at whatifsports.com; pictures from wikipedia
The Semifinals, Finals, and consolation game would rotate between:
1) The new cowboys stadium in Dallas, Texas
2) Franklin Field in Philadelphia, Pennsylvania
3) The Georgia Dome in Atlanta, Georgia
4) California Memorial Stadium in San Francisco, California
The Wild Card Games would be held on Saturday and Sunday in the third weekend of December. The Bowl Games would be held Jan 1-5th as per their schedule, while the second round will be held on the second Saturday in January, and the finals on the third Saturday in January.
Hope you enjoyed.... I'll post part two in this same article... sometime say next month or something.