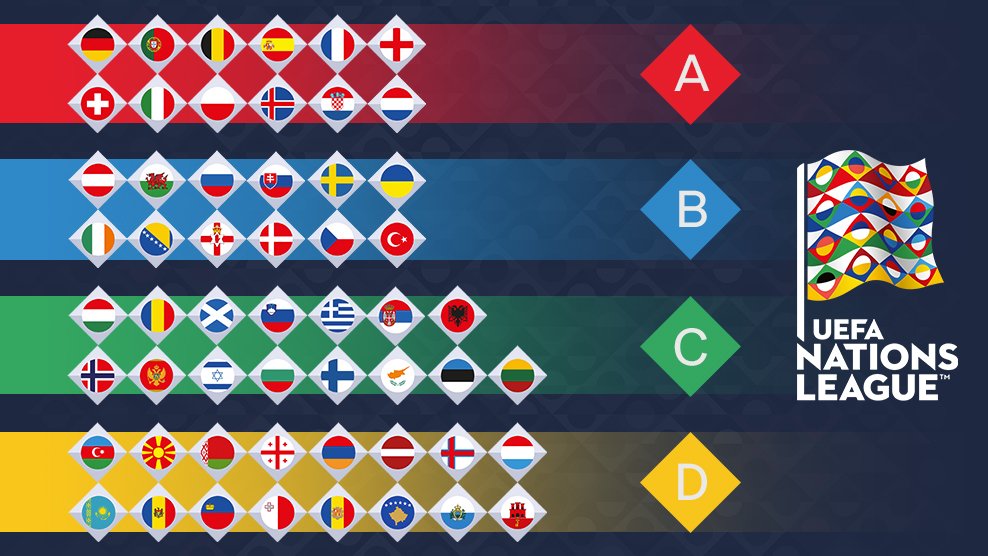 The 2018–19 UEFA Nations League will be the inaugural season of the UEFA Nations League, a planned international association football competition involving the men's national teams of the 55 member associations of UEFA
The competition, which will be held from September to November 2018 (group stage) and June 2019 (Nations League Finals), will also serve as part of the qualification process for UEFA Euro 2020, awarding berths in the play-offs which will decide four of the twenty-four final tournament slots.
The format and schedule of the UEFA Nations League was formally approved by the UEFA Executive Committee on 4 December 2014. According to the approved format the 55 UEFA national teams will be divided into four divisions (called "Leagues"):
- 12 teams in League A,
- 12 teams in League B,
- 15 teams in League C,
- 16 teams in League D.
For the 2018–19 UEFA Nations League, teams will be divided according to their UEFA national team coefficients after the conclusion of the 2018 FIFA World Cup qualifiers (play-off results will not be included), with the highest-ranked teams playing in League A, etc.
Each division will be divided into four groups of three or four teams, so each team will play four or six matches within their group (using the home-and-away round-robin format), on double match days in September, October and November 2018.
In the top division League A, teams will compete to become the UEFA Nations League champions. The four group winners of League A will qualify for the Nations League Finals, which includes four matches played in knockout format (two semi-finals decided by draw, third place play-off, and the final) in June 2019 at a host country (two venues) to be selected among the four qualified teams, with the winners of the final crowned as the Nations League champions.
Teams will also compete for promotion and relegation to a higher or lower division. In each division, the four group winners (except League A) will be promoted, while the last-placed teams of each group (except League D) will be relegated; however, in League C, due to different sized groups, the three fourth-placed teams and the lowest-ranking third-placed team will be relegated.